How Close Is The Invisibility Cloak?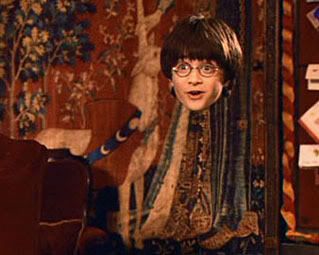 Siapa yang tidak ingin bisa berjalan-jalan tanpa kelihatan? Fantasi ini tertuang dalam berbagai film seperti Lord of the Ring, James Bond, Star Trek dan bahkan Harry Potter. Tetapi penerapan dalam dunia nyatanya selama ini masih merupakan khayalan.
Sampai sekelompok ilmuwan dari Imperial College di London yang bergabung dengan rekan-rekannya dari Duke University menemukan bahan seukuran 4.7 inci yang bisa membelokkan jalur gelombang mikro (termasuk cahaya) untuk mengitari benda apapun yang dibungkus di dalamnya. Dalam bahasa orang awam ini artinya benda apapun yang dibungkus di dalam materi ini akan tidak terlihat, karena seolah-olah cahaya akan terlihat menembusnya.
Kelompok ini perlu 5 bulan untuk mewujudkan sepotong kecil materi berdasarkan teorinya. Jadi sepertinya perlu beberapa tahun sebelum prototype yang sebenarnya akan terwujud. Kabar baik untuk para pengintip?
Scientists create 'invisibility' cloak that bends microwaves [CBC via TG Daily]
technorati tags:invisibility, cloack, science